Assalaam alaykum
Alhamdulillah, alhamdulillah, by Allah's Grace and Mercy Zakariya Masjid will re-open from Fajr salat on Saturday 4th July 2020, insha-Allah.
As you are all aware, the re-opening of the Masjid is based on various government restrictions and new protocols which must be followed by all. We therefore need your full co-operation and understanding.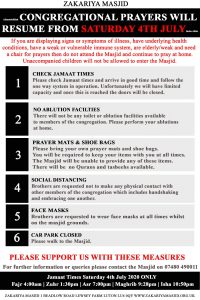 Please see the attached poster which summaries these new measures.
Masjid updates on:
zakariyamasjid.org.uk
Jazaak-Allah khair.
Zakaria Masjid
(Lewsy Farm)